Reading
At Sunny Bank Primary School reading is important as a basic tool necessary to allow children to access learning in all areas of the curriculum. Through our reading curriculum we aim to provide our children with rich and exciting opportunities for reading that develop them socially, emotionally and intellectually and build within them a real 'love of reading' that will stay with them forever.
Primarily we aim to achieve this through the development of a curriculum that immerses children in literature and the spoken word. Daily exposure to books and reading will enable our children to hear written English in its correct form, develop listening skills and introduce them to a wide variety of books, genres and authors.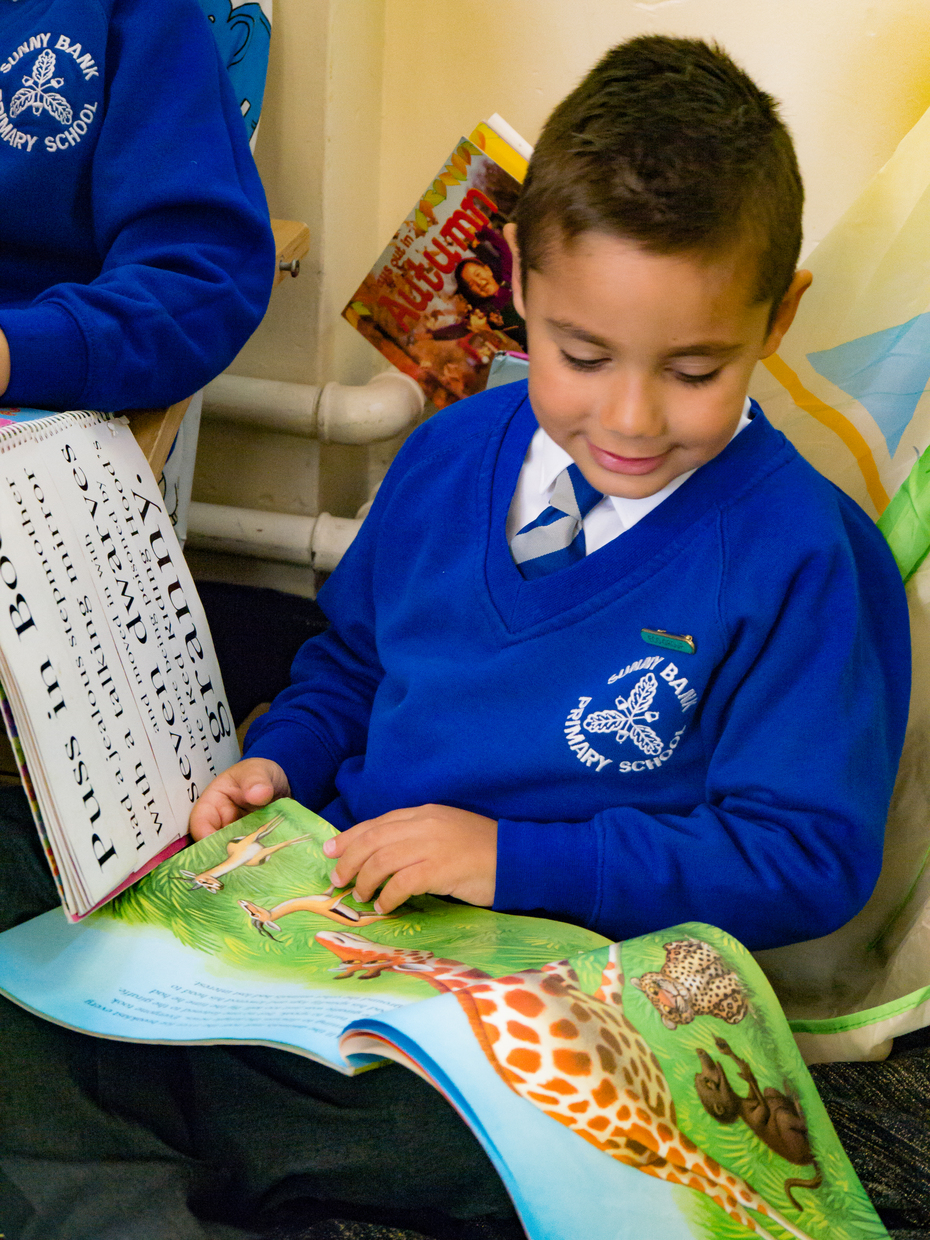 Children will experience reading in a number of ways.
Shared reading is where a class teacher or teaching assistant reads a text with the whole class or a large group and discusses aspects of the text or decomposes the text to examine how it has been put together. Class teachers will incorporate a linked text within their 'Learning Challenge' planning so the children have exposure to a text that supports their learning, for example Street Child will be used as the link text when children in Year Five are asked 'Would I want to be a Victorian Child?'
Children will also experience Guided reading. Guided reading happens in small groups of five or six children five times a week with a teacher or teaching assistant. Texts are chosen that aim to challenge the children with their reading skills but will also include picture books as we aim to develop deep and meaningful discussion around authorial intent.
Children will also experience the joy of independent reading where they will read a text for themselves which may be a home reading book or an independent text with a comprehension task attached. We also encourage the development of independent reading through our regular planned visits to Unsworth Library where each child at Sunny Bank has been enrolled as a member. Children are given the opportunity to chose a book to 'borrow.' Books are scanned out to their name and rescanned upon their return. Children are developing key library skills so that they are able to reflect on the choices they are making about what to take out and read. Younger children at Sunny Bank will also experience a 'Story session' during their visit.
We also encourage children to read at home through the use of 'Bug Club.
Bug Club instantly engages each child with a personalised reading world. Interactive activities, characters they know and love and a sophisticated reward system keeps children motivated as they move through the programme.
Our children are also able to access a wide range of quality texts in our Kindle library on our iPads.
Coming soon
Helpful hints for supporting reading at home