Phonics
At Sunny Bank Primary School we follow the Letters and Sounds Programme for phonics. Letters and Sounds is a phonics resource published by the Department for Education and Skills in 2007. It sets out a detailed and systematic programme of planned phases for teaching phonic skills to children and aims to build children's speaking and listening skills in their own right as well as to prepare children for learning to read by developing their phonic knowledge and skills. It starts at the age of five, with the aim of them becoming fluent readers by age seven.
Children are systematically taught the phonemes - sounds and how to blend the sounds all through the word for reading. Children are also taught how to segment the sounds in order to write words. They are taught to use their phonic skills and knowledge as their first approach to reading, but are also taught high frequency words which do not completely follow the phonic rules.
Phonics lessons with our children are undertaken daily with extra intervention groups taking place for those who need a little extra help.
Phase 1 Activities are divided into seven aspects, including environmental sounds, instrumental sounds, body sounds, rhythm and rhyme, alliteration, voice sounds and finally oral blending and segmenting.
Phase 2 Learning 19 letters of the alphabet and one sound for each. Blending sounds together to make words. Segmenting words into their separate sounds. Beginning to read simple captions.
Phase 3 The remaining 7 letters of the alphabet, one sound for each. Graphemes such as ch, oo, th representing the remaining phonemes not covered by single letters. Reading captions, sentences and questions. On completion of this phase, children will have learnt the "simple code", i.e. one grapheme for each phoneme in the English language.
Phase 4 No new grapheme-phoneme correspondences are taught in this phase. Children learn to blend and segment longer words with adjacent consonants, e.g. swim, clap, jump.
Phase 5 Children now move on to the "complex code". Children learn more graphemes for the phonemes which they already know, plus different ways of pronouncing the graphemes they already know.
Phase 6 Working on spelling, including prefixes and suffixes, doubling and dropping letters etc.
For further detailed explanation of the various phonics phases please visit:http://www.letters-and-sounds.com/what-is-letters-and-sounds.html
We also use interactive resources which support us in providing a multi-sensory approach to learning phonics and enhance the children's learning.
For more information about how to say letters using the synthetic model visit: bbc.co.uk/skillswise/game/game-phonics-tool.
Here you will find a video of how to pronounce the phonemes – sounds.
For further information you may also wish to visit The Department for Education's Phonics Area where you will be able to download
The Department for Education's Parent Leaflet.
Phonics screening
We recently received a second letter from the Right Honorable Nick Gibb MP congratulating Sunny Bank Primary School on our outstanding achievement with the phonics screening check 2019. This follows one we received regarding our outstanding achievements in 2018.
We are incredibly happy that all the hard work of our children and staff has been noted and we will continue with our good practice to support all the children throughout school with their phonics knowledge.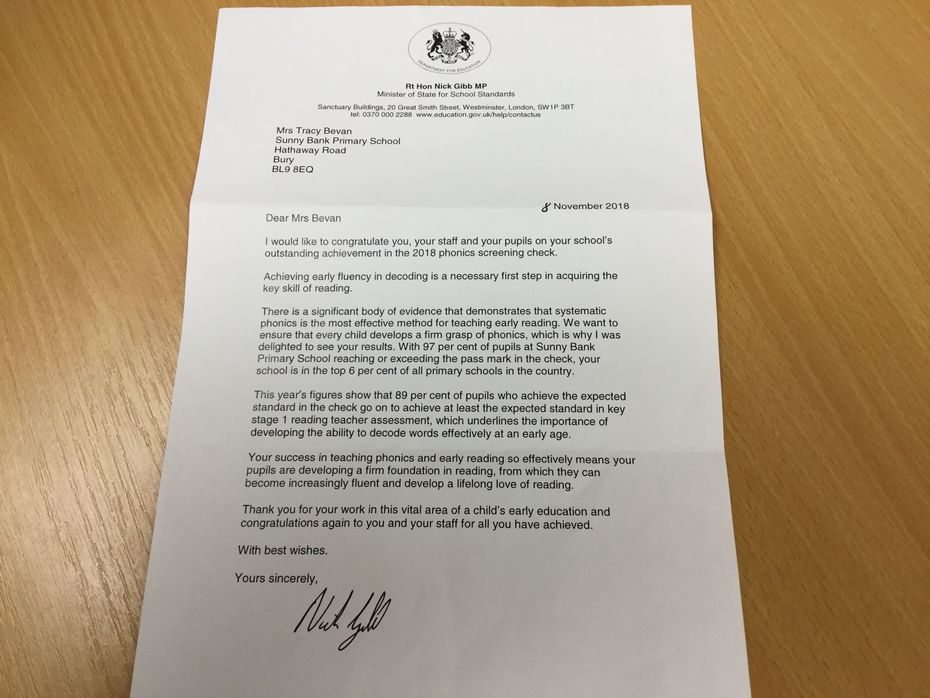 Phonics screening is a short assessment undertaken to confirm whether children have learnt phonic decoding to an appropriate standard. It will identify the children who need extra help so they are given support to improve their reading skills.
The screening check is for all Year 1 pupils and children in Year 2 who previously did not meet the standard of the check in Year 1. It is a statutory requirement to carry out the screening check.
The check comprises a list of 40 words and non-words, which a child will read one-to-one with a teacher.
The phonics screening check will be administered during the month of June.
Phonics Games